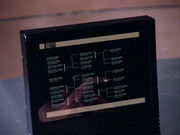 Angelo Dante Raymond was a Human. As the son of James Holt Raymond and Milan Adala Raymond, he was the great-great-great-great-great-great grandchild of Clare and Donald Raymond. He was born in New Berlin, Luna. His brother was Peter Molnar Raymond. He married Annie Kaprelian Raymond. Their children were Cari, Robert, and Robert. (TNG-R: "The Neutral Zone", okudagram)
The name of this character was never mentioned in dialog; the name came from the remastered Clare Raymond family tree.

This character was named for CBS Lead Producer

Angelo Dante

.