"Today we conquer! Oh, if someday we are defeated...well...War has its fortunes. Good and bad."
- Commander Kor (2267) (

TOS

: "

Errand of Mercy

")
The following is a list of all military conflicts, rebellions, coups, etc that have occurred from the distant past to the far future, organized by date.
Distant past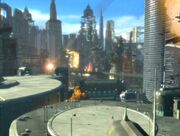 19th century
20th century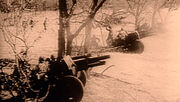 Conflicts of the 21st century
Conflicts of the 22nd century
Late 22nd century to mid 23rd century
Within their sphere of influence, the Romulans fought a number of campaigns against an undisclosed force or forces.
Conflicts of the 23rd century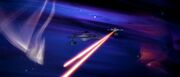 Conflicts of the 24th century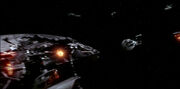 Dominion cold war and war
Conflicts involving the Borg
Delta Quadrant regional conflicts
Excluding those involving the Federation through USS Equinox or USS Voyager.
Conflicts of the possible future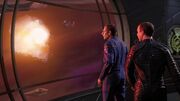 Conflicts with indeterminate dates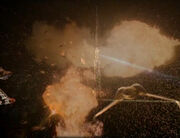 Andorian-Tellarite conflict
Involving the Klingon Empire
During Kahless' life
Some inconsistencies exist concerning the exact dating of Kahless' life. See the note here for details.
Involving the Romulan Star Empire
conflicts involving both the Romulans and the Klingons have been listed under the Klingon Empire section.
Alternate timelines
Nazi Germany conquest of Earth
Alternate reality invasion of Federation space by the Borg. (before 2370)
Xindi eradication of Humanity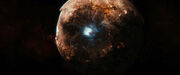 note that many of these events are without clear dates
Averted conflicts
These are planned conflicts which were stopped before they could start.
Accounts of conflicts proven to be false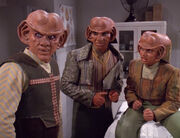 Fictional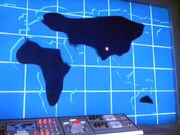 Some of these might still be based on real events.
Other and unsure
The vast majority of species assimilated by the Borg were presumably, at least briefly, in conflict with them.
When taken together, The short life expectencies of Jem'Hadar, together with the fact that very few don't die in battle, would suggest that the Dominion is constantly involved in conflict, even beyond those seen on-screen.
A number of species were said to have once been warlike, even if no specific conflicts were named.

Argelius II was very violent before it's Great Awakening. It's unknown if this violence extended to armed conflict. Skorr can similary be assumed to have been involved in many conflicts before their awakening.
Ekosians were a said to be a warlike people untill at least a few years before 2268.
By 2366, Chrysalians had been at peace for ten generations

A number of species were said to have a reputation as warriors or conquerers, even if no specific conflicts were mentioned:

Kelvans implied to have a tradition of conquest.
Remans were said to have historically been known as great warriors, and as such presumably fought in a number of conflicts, even before the Dominion War.

On a few occasions, it was said that war was looming or imminent somewhere, and that statement was not followed up on.
"

The Magnificent Ferengi

" (set during the Dominion War mentioned that several Starfleet missions into Cardassian space had not returned. While not explicitly said, presumably this was the result of battle.
The Cardassian wars caused many deaths on Camor V. However, the exact cause was not explicitly stated.
2367 saw a Salenite miner dispute on Pentarus V. It is unclear how far this went, but it was said they were very prone to violence.
The fact that Romulans in the 2150 held a strict doctrine of Unlimited expansion would suggest that they engaged in conquest in the period before the Earth-Romulan War.
The N'Kree were attempting to recruit the Silver Blood USS Voyager into their battle fleet in either 2374 or 2375.
A particular sailing ship firing was seen in both the Guardian of Forever and the resetting timestream.
The Vaadwaur apparently raided and conquered many species before their defeat in the 15th century. This included conflict with the Talax-ilzay, , and possibly the Turei.
warlords were known to operate on Preenos and Kelis' homeworld.
See also