You may search for background actor Dave Armstrong.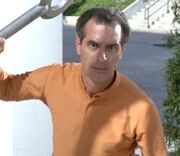 Actor David Thomas "Dave" Armstrong (born 16 October 1924; age 90) played Kartan in the Star Trek: The Original Series episode "Operation -- Annihilate!". He filmed his scene on Wednesday 15 February 1967 at the TRW Space and Defense Park in Redondo Beach, California.
Armstrong made an uncredited appearance in the 1954 film A Star Is Born, as guest star Richard Webb. He also appeared as a reporter in the 1977 film, New York, New York. That film also featured TNG/DS9 guest actor Dick Miller. His television appearances include guest spots on Mission: Impossible, The Invaders, and The Man from U.N.C.L.E..
External link
Edit