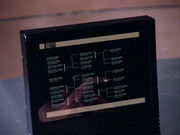 David Grant Raymond was a Human. As the son of Don Greenberg Raymond and Marian Crosby Raymond, he was the great-great-great-great-great-great grandchild of Clare and Donald Raymond. He was born in Tycho City, Luna. His brothers were Brian and Ryan. (TNG-R: "The Neutral Zone", okudagram)
The name of this character was never mentioned in dialog; the name came from the remastered Clare Raymond family tree.

David Grant Raymond was named after Vice President Multi Media at CBS Television Distribution

David S. Grant

.