Welcome to Memory Alpha!
Memory Alpha is a collaborative project to create the most definitive, accurate, and accessible encyclopedia and reference for everything related to Star Trek. The English-language Memory Alpha started in November 2003, and currently consists of 38,560 articles. If this is your first visit, please read an introduction to Memory Alpha.
Featured article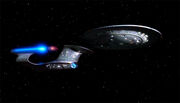 Saucer separation was an emergency maneuver performed on some Federation starships involving the complete disconnection of the primary hull and the secondary hull. During the 23rd century, separation was a one-time only event used only in a catastrophic emergency; the two sections could not reconnect easily following a separation.
In the 24th century, some starship classes were designed to routinely separate into one or more components. The procedure itself became more common and tactical, as well as emergency, uses became standard procedure. By this period, separation technology had advanced sufficiently to be performed at warp speeds. The procedure was extremely risky, with no margin for error; partially due to this, a high-warp separation was never attempted prior to 2364.
Editing Memory Alpha
| | | | |
| --- | --- | --- | --- |
| Basic information | About the encyclopedia | Writing articles | Works in progress |
Memory Alpha is not endorsed, sponsored, or affiliated with CBS Studios Inc. or the "Star Trek" franchise.
The
Star Trek
trademarks, logos, and related names are owned by CBS Studios Inc., and are used under "fair use" guidelines.
The user-created content of this site is released under the Creative Commmons "Attribution-NonCommercial" license version 2.5, which can be found
here
. See
Memory Alpha: Copyrights
for more information.