Welcome to Memory Alpha!
Memory Alpha is a collaborative project to create the most definitive, accurate, and accessible encyclopedia and reference for everything related to Star Trek. The English-language Memory Alpha started in November 2003, and currently consists of 38,864 articles. If this is your first visit, please read an introduction to Memory Alpha.
Featured article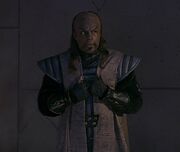 Colonel Worf was a prominent Klingon advocate and diplomatic figure in the late 23rd century.
In 2293, Worf represented Captain James T. Kirk and Dr. Leonard McCoy when they were put on trial on the planet Qo'noS, in suspicion of involvement in the assassination of Chancellor Gorkon. While Worf was powerless to prevent the pair being convicted in what was essentially a show trial, he nonetheless managed to convince a trio of judges who were presiding over the case that the evidence was not strong enough to support the death penalty. He noted that Gorkon's assassins could have merely been wearing Starfleet uniforms rather than being members of Starfleet themselves. Due to this line of deliberation, combined with the closeness of an impending peace summit, the sentence was commuted to a lifetime's imprisonment on Rura Penthe.
Editing Memory Alpha
| | | | |
| --- | --- | --- | --- |
| Basic information | About the encyclopedia | Writing articles | Works in progress |
Memory Alpha is not endorsed, sponsored, or affiliated with CBS Studios Inc. or the "Star Trek" franchise.
The
Star Trek
trademarks, logos, and related names are owned by CBS Studios Inc., and are used under "fair use" guidelines.
The user-created content of this site is released under the Creative Commmons "Attribution-NonCommercial" license version 2.5, which can be found
here
. See
Memory Alpha: Copyrights
for more information.