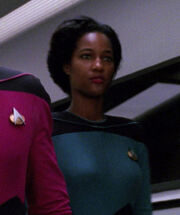 Melanie Gerren is an actress and model who portrayed a science division officer in several episodes of Star Trek: The Next Generation. As a background actress she received no credit for her appearances and was identified by the call sheets. According to the call sheets, she appeared in corridor scenes of the fourth season episode "Identity Crisis" and in Ten Forward scenes of the episode "First Contact". Both scenes were not part of the final episodes. She was also scheduled to work in sickbay scenes in the fifth season episode "Unification I", in corridor scenes for the episode "New Ground", in cargo bay scenes for the episode "Ethics", and in Ten Forward scenes for the episode "The Outcast" but was replaced.
Gerren was born in Los Angeles, California, USA. Following her work on Star Trek, Gerren traveled the world and moved to Rome, Italy where she appeared in a number of films including the comedy Wash and Dry (1997), the comedy Muzungu (1999), the television comedy Una storia qualunque (2000), the drama Diapason (2001), the comedy Il principe e il pirata (2001), the television drama L'inganno (2003), the fantasy adventure The Life Aquatic with Steve Zissou (2004, with Seymour Cassel), and the drama Shooting Silvio (2006) as well as the Italian talk show Nessundorma (2004).
More recently, she appeared in the thriller Butterfly zone - Il senso della farfalla (2009) and in the comedy Italian Movies (2012). Gerren is also writing lyrics for songs and performing songs herself such as "Swing Climax" and "Libidolove" for the film I Mostri Oggi and is colaborating with the label Proceed Records. [1]
Appearances
Edit
External links
Edit