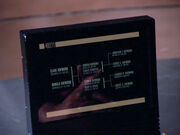 A familial connection was a relationship between people by genetics, marriage, adoption, or an especially strong friendship. In 2376, Seven of Nine and Naomi Wildman said they considered each other family because they were very close friends. (VOY: "Survival Instinct") The study of this family relationships was known as genealogy. (VOY: "11:59")
Familial connections varied by species, culture, gender, sexual identity and preference. Denobulans commonly had several spouses, each of which had more spouses, and children by each. Bolian families may likewise be polygamous. (DS9: "Field of Fire")
In 2374, Seven of Nine said the need for familial connections was a weakness. (VOY: "Hope and Fear")
Genetics-based connections
Edit
See Parenting for main article.
A male who has parented a child is referred to as a father. Alexander often called Worf "Father" (TNG: "Reunion", et al.) whereas Jake Sisko referred to his father Commander Benjamin Sisko by the more informal "Dad." (DS9: "Emissary", "Move Along Home", et al.) During his lifetime, Captain Kathryn Janeway referred to her father Vice Admiral Janeway as "Daddy." (VOY: "Coda")
When Jake Sisko told Varis Sul about his father, Nog tried to compare his father, Rom, to Jake's. Both were more silent when Varis Sul told them that her parents were killed by the Cardassians. (DS9: "The Storyteller")
Siblings
Edit
List of siblings:

List of full siblings:
List of twins:
List of half siblings:
Children
Edit
also see offspring
Grandparents
Edit
The term "foremother" was used in place by Vulcans for grandmother. (ENT: "Carbon Creek")
Grandfather
Edit
A grandfather is a title used to describe the father of one's own parents. A great-grandfather refers to the father on one's own grandfather.
Ira Graves claimed to have been a mentor to Doctor Noonian Soong, suggesting that made him "grandfather" to Soong's android creation, Data. (TNG: "The Schizoid Man")
Deanna Troi's grandfather was someone she spent time with on Betazed while growing up. She later described him as a man who rarely spoke, noting that talking was for off-worlders and people who didn't know any better. When Troi was young, her grandfather would tell her stories to her telepathically as they sat by the fire. Troi would close her eyes and listen to his mind for hours on end. When Troi got older, the only time she could remember his stories was when she went home to Betazed and sat by the fireplace, adding that at times, when she was alone there, it was almost like she could hear his voice inside her head. (TNG: "Eye of the Beholder")
Riley Frazier had fond memories, while growing up in mid-24th century Texas, of picking bluebonnets with her grandfather, who carried a walking stick. (VOY: "Unity")
List of grandparents
Edit
List of grandparents:

Jonathan Archer and Esilia, paternal great-grandparents of Karyn Archer (alternate timeline)
Benaren and Martis, maternal grandparents of Linnis Paris (alternate timeline) and maternal great-grandparents of Andrew Kim (alternate timeline)
John Kim and Mary Kim, paternal grandparents of Andrew Kim (alternate timeline)
George Kirk and Winona Kirk, paternal grandparents of David Marcus, Peter Kirk, and two more grandsons
Tiberius Kirk and James, respectively paternal and maternal grandfather of George Samuel Kirk and James T. Kirk
Alexander Marcus and Wallace, maternal grandparents of David Marcus
David McCoy, paternal grandfather of Joanna McCoy
Mogh, paternal grandfather of Alexander Rozhenko and Kurn's children
Michael O'Brien, paternal grandfather of Molly O'Brien and Kirayoshi O'Brien
Maurice Picard and Yvette Picard, paternal grandparents of René Picard
Owen Paris, paternal grandfather of Miral Paris
Owen Paris, paternal grandfather of Linnis Paris (alternate timeline)
Tom Paris and Kes, maternal grandparents of Andrew Kim (alternate timeline)
Connaught Rossa, paternal grandmother of Jeremiah Rossa
Sergey and Helena Rozhenko, adoptive grandparents of Alexander Rozhenko
Joseph Sisko and Sarah Sisko, paternal grandparents of Jake Sisko
Ian Andrew Troi and Lwaxana Troi, maternal grandparents of Ian Andrew Troi, Jr.
John Torres and Miral, maternal grandparents of Miral Paris
Cyrus
Charles Tucker I:
Charles Tucker II, paternal grandfather of Elizabeth and paternal grandfather of Lorian (alternate timeline)
Samantha Wildman and Greskrendtregk, maternal grandparents of Sabrina
Grandchildren
Edit
Other genetic relationships
Edit
Els Renora had a great-granddaughter who was the same age as Jadzia Dax. (DS9: "Dax")
Tom Paris suggested that although the Astronomer had been dead for many years, they could send a message to his great-grandchildren instead. (VOY: "Blink of an Eye")
List of other genetic relationships

List of uncles and aunts:
List of cousins:
Other:
Other familial connections
Edit
Other non-genetic relationships
Edit
List of other non-genetic relationships:

Tom Paris considered himself the fictive "uncle" of the Repto-humanoid hatching.
List of step-relatives:
List of in-laws:
List of godparents:
List of surrogate parents:
Background
Edit
Real life connections
Edit
Following Star Trek performers and production staff members share a real life familial connection: