Welcome to Memory Alpha!
Memory Alpha is a collaborative project to create the most definitive, accurate, and accessible encyclopedia and reference for everything related to Star Trek. The English-language Memory Alpha started in November 2003, and currently consists of 38,560 articles. If this is your first visit, please read an introduction to Memory Alpha.
Featured article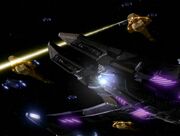 The Second Battle of Deep Space 9 was the opening battle of the Dominion War, in which the combined forces of the Dominion and the Cardassian Union, led by Gul Dukat, launched an assault on the Federation-held starbase Deep Space 9. Although the station was captured by the Dominion, the battle was a strategic victory for the Federation because they successfully mined the Bajoran wormhole, preventing the Dominion from sending reinforcements to join the battle from the Gamma Quadrant. Also, the commitment of forces necessary to attack the station enabled a joint Federation-Klingon task force to destroy vital Dominion shipyards.
Following their annexation of the Cardassian Union around stardate 50560, the Dominion began fortifying their foothold in the Alpha Quadrant with weekly convoys of warships and troops through the wormhole. As time went on, Cardassian space became a veritable fortress, teeming with Jem'Hadar soldiers and their Vorta overseers.
Although a technical state of war did not exist, and neither side had fully committed to immediate combat, numerous skirmishes took place along the border during this period. Aside from the Dominion's attempt to destroy the Bajoran system using a trilithium bomb, the Jem'Hadar and the Cardassians attacked and destroyed numerous Federation and Klingon patrol ships in a sustained campaign across the border sectors. Casualties of these attacks included the USS
Tian An Men
and the IKS
B'Moth
.
Editing Memory Alpha
| | | | |
| --- | --- | --- | --- |
| Basic information | About the encyclopedia | Writing articles | Works in progress |
Memory Alpha is not endorsed, sponsored, or affiliated with CBS Studios Inc. or the "Star Trek" franchise.
The
Star Trek
trademarks, logos, and related names are owned by CBS Studios Inc., and are used under "fair use" guidelines.
The user-created content of this site is released under the Creative Commmons "Attribution-NonCommercial" license version 2.5, which can be found
here
. See
Memory Alpha: Copyrights
for more information.