This article or section is incomplete
This page is marked as lacking essential detail, and needs attention. Information regarding expansion requirements may be found on the article's talk page. Feel free to edit this page to assist with this expansion.
Star Wars is a film and television franchise.
Trek in Wars Edit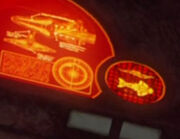 In Star Wars: The Clone Wars Season 1 Episode 2 "Rising Malevolence" from 2008, at time index 02:37 a Keldon-class ship can be seen on a tactical monitor behind General Grievous.
During development on Star Wars Episode IV: A New Hope, George Lucas took inspiration from Star Trek, recalling that, like Lucas himself, Gene Roddenberry initially hadn't been entirely comfortable with developing a series and refining or pulling together the vision of a fictional world. (The Making of Star Wars: The Definitive Story Behind the Original Film, pp. 245-246)
Wars in Trek Edit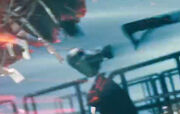 A scene in DS9: "Valiant", involving the USS Valiant battling a Jem'Hadar battleship, was intended to be evocative of the Battle of Yavin in Star Wars: Episode IV A New Hope. "That whole sequence, that technical thing that they found, it's all a deliberate homage to Star Wars," said Ronald D. Moore. (Cinefantastique, Vol. 30, No. 9/10, p. 61)
Crossovers
Edit
Performers
Production